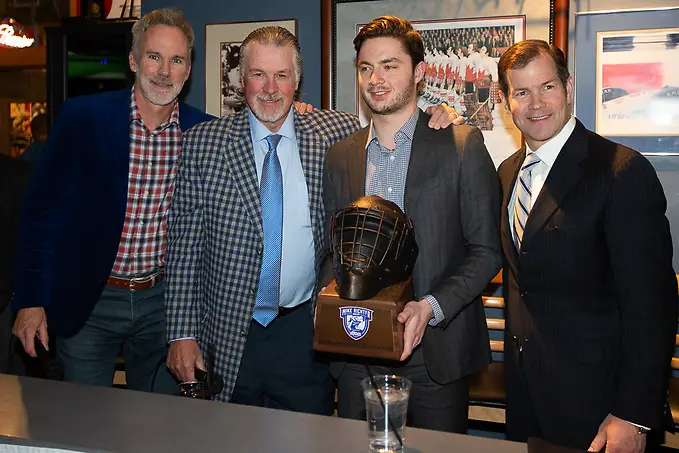 ST. PAUL, Minn. — After being named the fifth recipient of the Mike Richter Award for the NCAA Division I men's goaltender of the year, Notre Dame's Cale Morris was grateful but his focus was elsewhere.
"It's an incredible award," said Morris, the sophomore from Larkspur, Colo., who backstopped the Fighting Irish to Saturday's national championship game against Minnesota Duluth. "It's definitely something I think after the season I'm going to value and cherish the rest of my life, but right now, I'm just kind of focusing on tomorrow."
That is exactly the kind of response Richter himself would expect from Morris, a goaltender he's seen a lot of this season.
"After I saw him a couple of times, I wanted to see him more because he is truly composed," said Richter, who made a name for himself with the New York Rangers after spending two seasons at Wisconsin (1985-87).
Richter also played for Jeff Jackson, who was an assistant coach on the 1998 Olympic team, so he pulled a quote from the Notre Dame coach for Friday's ceremony.
"Coach Jackson said, 'The strength in this is poise and control mentally, physical, emotionally.' That is apparent if you watch Morris for two minutes," Richter said. "He's very solid back there. He's very quiet back there."
In Notre Dame's 4-3 semifinal win over Michigan on Thursday, Jake Evans' game-winning goal with six seconds remaining in regulation was, understandably, the play that everyone talked about. What may have been overlooked, said Richter, was how steady Morris was in net.
"They get scored on early, they get through that first period … in the second period — boom — they get a fluke goal against," said Richter. "I don't think he played bad at all but they're down 2-0 and he made a couple saves to keep them from getting down 3-0 and allow Notre Dame to get their feet under them and win the game.
"It was a bit dramatic at the end, but this guy just played the same way the whole way. That consistency's a big deal."
After three-year Notre Dame starter Cal Petersen left at the end of his junior season last year, goaltending was a big question mark for the Fighting Irish. Morris and freshman Dylan St. Cyr knew they'd be battling for the starting position. Jackson knew fairly early in the season, however, that Morris was emerging as the starter.
"I think it was opening weekend in the Big Ten when we played Ohio State," said Jackson. "That's when we knew because he stood on his head for two games. That's when it started our winning streak and he was a huge part of that."
Morris's potential, however, was evident during the 2016-17 season, in which he saw just over 19 minutes of playing time.
"People talk about him not playing last year, but I think it was about last year, the fact that he had such a tremendous attitude and work ethic and continued to work to get better every day in practice," said Jackson. "We thought he got better last year, and that's very difficult to do when you're not playing.
"But he learned a lot from Cal and studied Cal and they became good friends and I sensed then that he had a chance then, especially in the bye weeks last year when we scrimmaged. He'd always out-compete, out-battle Cal Petersen, so we knew he had a chance to be extremely good."
After Morris won the Mike Richter Award, Jackson had a few things to say about another award presented at the Frozen Four.
"I felt Cale should be a Hobey Hat Trick finalist," said Jackson. "I think it's a shame. Ryan Miller deserved to be the Hobey Baker winner and there's been two or three goalies since then that deserve to be at least in the final three. I think it's a real shame that the committee doesn't look at goaltenders because of this award.
"I'm a Detroiter, so when Justin Verlander was up for the Cy Young and the MVP, he won both and that's the way it should be. Yes, he was the best pitcher, but he was also the best player and that's the way the Hobey Baker should be, too, whether it's a defenseman, a goalie or a forward. A goaltender should be recognized for the Hobey Baker Award. The ceremony's a much different event. The prestige of it is different — and that's no disrespect to Mike Richter, who's a tremendous goaltender and a tremendous man. I'm not going to shy away from saying this."
Morris enters the 2018 NCAA championship game with a record of 27-7-1, a 1.94 goals-against average and a nation-leading .944 save percentage.