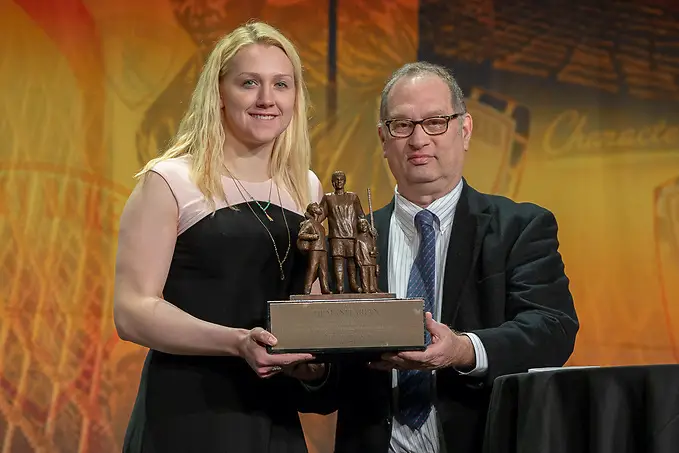 ST. PAUL, Minn. — Minnesota senior goalie Sidney Peters was honored Friday as the 23rd recipient of the Hockey Humanitarian Award at Roy Wilkins Auditorium as part of the 2018 men's Frozen Four weekend.
The award is presented annually to college hockey's "finest citizen," recognizing leadership in community service.
"To be named the award recipient was just the coolest feeling in the world because I had learned all about people who were associated with the award," said Peters. "They had done incredible things, and to be in their company was a huge honor, something I'm very proud of."
On the journey to being recognized for leadership and service, Peters found an ultimate role model of servant leadership through her faith and she found an identity not based in herself.
"Hockey's not your identity," said Peters in summing up the core message of her acceptance speech.
"For me, my identity is in Christ. I believe that anything that you make your god that isn't God is ultimately going to fail you.
"For people who aren't religious, the same thing applies. If you put your value and your worth in hockey, then you're going to have some really good days and some really terrible days. It's going to be a roller coaster of emotion. You're ultimately going to be left feeling empty a lot of the time."
That lesson — dealing with emptiness — was one that Peters had to learn when she arrived at Minnesota. She was redshirted her freshman year, and then was a backup goalie for two seasons before being named the starter.
"I spent a lot of time on the bench and I spent a lot of time just trying to figure out who I was without hockey," said Peters.
"You come from high school where you're 'the kid,' and I played on the U18 team where I was MVP of the world championship, and then I come to college and nobody cares who I am. Everyone here is so good. They're Olympians, they're All-Americans, they've won national championships."
That led Peters to begin to realize that there is more to life than hockey.
"If hockey is my whole world, I'm going to be miserable," she said. "I started to branch out and tried to meet new people, and that's where volunteering came in."
Peters began donating her time as a certified emergency medical technician at campus concerts and sporting events, logging more than 800 volunteer hours.
"I just really fell in love with the service aspect of it, so that even when I was starting [in goal] and hockey was getting to be more fun, and a little bit easier, I still wanted to be doing those things," Peters said.
Through her volunteer work at University of Minnesota Emergency Medical Services, Peters was introduced to Project Medishare, which helps provide health care to Haiti at Hospital Bernard Mevs in Port-au-Prince.
Two fellow university EMT volunteers had served there, and the father of one of them is an emergency room doctor who has served in the program.
Haiti is still rebuilding its infrastructure, which was devastated in a 2010 earthquake.
Peters traveled to Haiti on an eight-day volunteer trip with Project Medishare in the summer of 2016.
"It was nothing like anything I've experienced working as an EMT in the States, that's for sure," said Peters. "Patients would come in in the bed of a pickup truck because they don't have ambulances. It's the only critical care and trauma center in the country. It's the only pediatric intensive care unit. So we'd get patients who'd been in the car for a long time, and a lot of times were in very critical condition."
Peters explained that she was unable to speak the language of the Haitians she helped treat and so was unable to provide words of comfort or encouragement.
But also a barrier to health care in Haiti is a critical lack of resources.
"It was so hard to work down there because it was the only hospital and they had so many patients," Peters said. "But it was also made even more difficult by the fact that they had two or three beds and then they would have 20 patients in one room.
"Someone would die right there in the room while all the other patients were watching."
The experience affected Peters deeply, and in a profoundly life-changing way.
"I just couldn't get some of the stuff I had seen out of my head, but at the same time I didn't want to forget about it," she said. "So I was kind of pondering all the experience I had just had. … It's kind of like drinking out of a fire hose.
"That contrast of living my life as the starting goalie for the U and then being in Haiti — how can I feel like my problems are as big a deal as I'm making them out to be when there are people who don't even know where they are going to get their next meal?" she said. "Or they don't have somewhere to live. They don't have the ability to have basic hygiene.
"To just know that this was going on in the world while I was sitting here living this lush and relatively easy life compared to what a lot of people are dealing with was something I had to wrestle with for a while."
Though the conditions at Hospital Bernard Mevs are shocking, Peters was quick to add that the hospital is doing "remarkable things" with the resources they have. But financially it's a real struggle.
The ability to help with those finances is one reason Peters was so delighted to find out that she was this year's recipient. A contribution of $3,000 from the Hockey Humanitarian Award Foundation will go to Project Medishare.
"When I was down there, a lot of the patients I worked with weren't able to receive the medical care they deserved because of a lack of resources," Peters explained. "We were short on [cervical] collars and traction splints and gauze and medications. So I thought that money would go a long way down there."
In addition to receiving the Hockey Humanitarian Award, Peters also was notified Friday morning that she had been accepted into Uniformed Services University's medical school in Bethesda, Md., where she will be commissioned as an officer in the Air Force and trained as a physician.
That is the next step in a life after hockey for Peters, who began to think more seriously about what would come after her college playing career.
It was March 31, 2017, that Peters had hip surgery after playing with pain during her junior season.
"That's when it hit me," she said. "I'm not going to make the Olympic team. I don't want to play pro hockey because my hip hurts. I just wanted to be done.
"You can't play forever. Knowing that hockey isn't everything and can't be everything is so important for players that are still in the game."
And that's where her encouragement to other student athletes comes in.
"I think we're all capable of more than we do. We're given such a big platform where we have so many eyes on us," said Peters. "While that can be intimidating at times, it's also incredibly powerful. It gives us a chance to really make a difference and have our voice heard."
Meanwhile, Peters continues to try to live in a way that honors her faith.
"The way you live your life is the only Bible some people will ever read," she said. "Most people don't open up a Bible, so they don't even know what it is you believe — the person you're trying to be — they don't understand that. If you live your life the best way you know how, people can start to figure out what you're about and kind of see what your motive is about."
Peters thinks hockey would flourish with a greater emphasis on character, the sort of character that the Hockey Humanitarian Award was created to recognize. She admitted, however, that changing one's focus from one's self to others can run counter to a culture of competition and personal achievement.
"You're unwiring what the culture of hockey kind of raises you to be," she said. "If the players in D-I hockey started to recognize character and talent and not just talent, and started to commend people for the good things they're doing outside of the rink, then I think hockey would look a lot different."
Her recommendation to other student athletes? Volunteer.
"Start small. Try to make a difference," said Peters. "Or just help anyone."