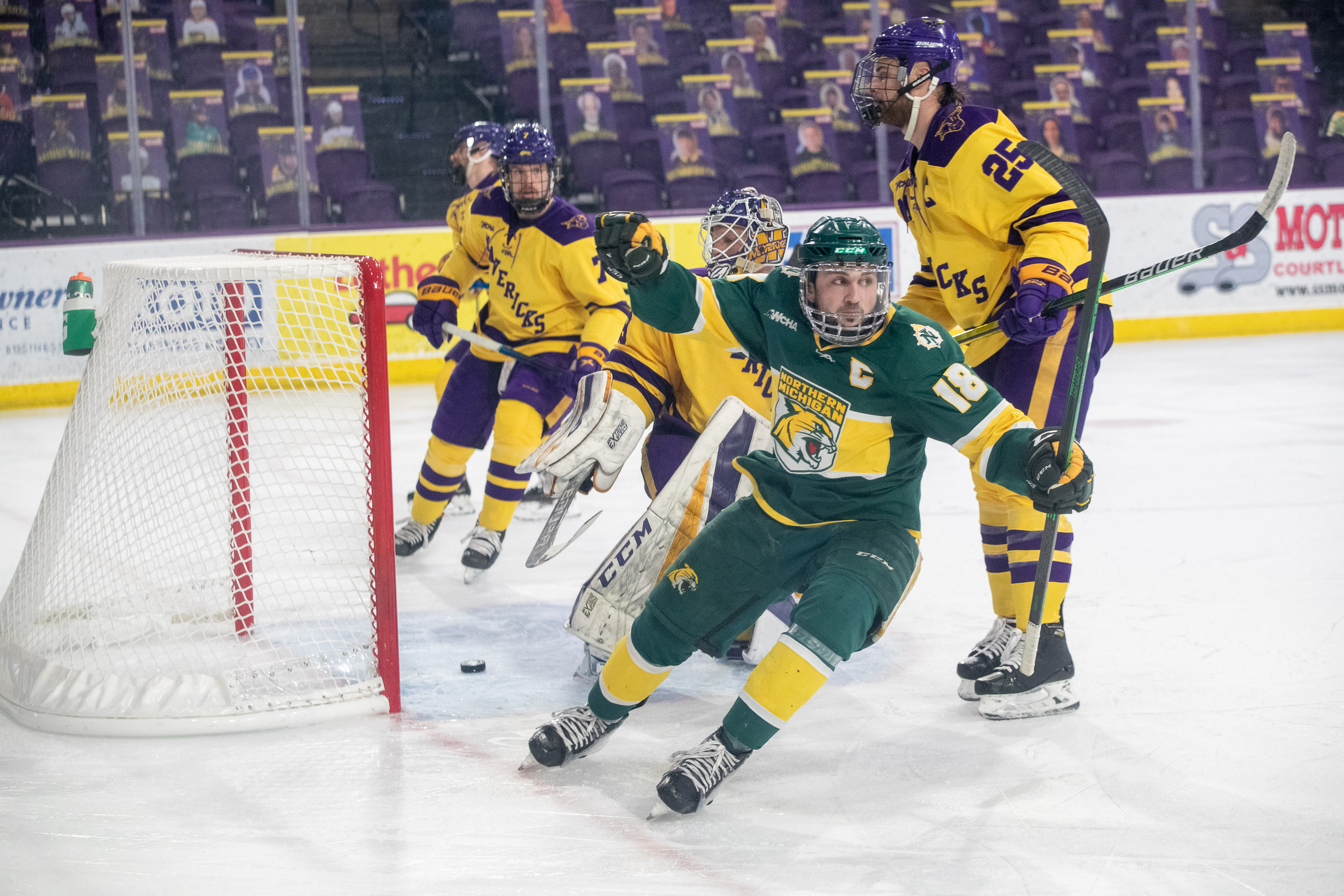 André Ghantous scored twice and freshman netminder Rico DiMatteo stopped 28 shots to lead sixth-seeded Northern Michigan a major upset of top-seeded Minnesota State, 5-1, in the opening semifinal of the WCHA Championship.
Northern Michigan will meet Lake Superior State in Saturday's title game.
Hockey hugs all around💚💛#NMUwildcats pic.twitter.com/GcDwHV3uKD

— NMU Men's Hockey (@NMUHockey) March 19, 2021
"Going into this weekend we knew we had a tall task ahead of us," Northern Michigan head coach Grant Potulny said following the game. "Playing one of the best teams in the country, if not the best, in their home building we knew we had to play a flawless game.
"I thought from the beginning of the game right to the end, starting with our leadership, we had discipline in our structure, we had discipline individually in staying out of the penalty box and I thought our goalie was outstanding."
Northern Michigan jumped to a 1-0 lead through one on Ghantous' first goal of the game. But then it was a second-period explosion, four goals in the first 13 minutes of the frame, that blew open the contest.
The heavily favored Mavericks got a third-period goal from Reggie Lutz for a glimmer of hope in a frame in which Minnesota State held a 13-2 shot advantage. But the damage was done in the second creating far too tough of a hill to climb.
"There were some moments when the game was still up for grabs, and even in the third when they had their big push, that's a team that can score in bunches," said Potulny, "and I thought Rico did a really good job making some really timely saves."
Joseph Nardi led all scorers with a goal and two assists, while and Ghantous' two goals gives him nine on the season, all coming since January 25.
For Minnesota State, there is reason for concern. The Mavericks are certainly a lock for the NCAA tournament but now must regroup in the next week before facing a regional opponent still looking for the program's for NCAA Division I tournament win.
"You have to look in the mirror," said Mavericks coach Mike Hastings. "I told the guys we have to own our performance whether it's good or bad. We didn't handle today very well. We have to recognize what happened and flush it. Because we don't have a lot of time to dwell."
No. 17 Lake Superior 4, No. 13 Bemidji State 1
The Lake Superior offense struck early and often and limited what had been a red-hot Bemidji State team to just 27 shots, 13 coming in the third, as the Lakers advanced to the WCHA finals with a 4-1 victory over the Beavers.
Lake Superior built a 3-0 lead through two periods on a first period tally by Brandon Puricelli and two goals in the middle frame by Jacob Bengtsson and Hampus Eriksson.
When Lucas Kaelble extended the lead to 4-0 early in the third, even a late goal by Bemidji State's Ethan Somoza could keep the Lakers from smelling the finals and their chance to capture their first WCHA title.
The Lakers won four CCHA tournament titles but hasn't won a postseason tournament since 1995.
Atlantic Hockey
No. 15 AIC 2, Niagara 1
Top-seeded AIC held serve in Friday's Atlantic Hockey opener, though needed a late third period goal to earn a 2-1 win over a very pesky Niagara team.
The Yellow Jackets, which hadn't played a game since January 31 due to cancelations related to COVID, never held a lead until Justin Cole scored with 5:41 remaining in regulation.
Niagara, in fact, led the game heading to the third period on a Walker Sommer goal at 17:50 of the second.
🔥 Cole 🔥 #whataguy pic.twitter.com/b7iLr5Mpdo

— AIC Hockey (@AIC_Hockey) March 19, 2021
But AIC found their jets in the third, holding a 12-5 shot advantage.
Elijah Barriga finally solved Niagara goaltender Chad Veltri at 11:22 of the third to even the game at one. That set up Cole's game winner to advance the hosts to the title game.
Stefano Durante earned the win in goal for AIC stopping 17 of 18 shots.
Canisius 4, No. 19 Army 3 (OT)
J.D. Pogue's goal at 13:23 of overtime ended a back-and-forth semifinal battle and gave Canisius the 4-3 victory over Army.
The Golden Griffs will face AIC in Saturday's title game.
All gas, no brakes. 🔥@jd_pogue | #Griffs | #NCAAHockey pic.twitter.com/vLlQsbugjm

— Canisius Hockey (@GriffsHockey) March 20, 2021
Max Kouznetsov sent the game to overtime scoring on the power play for the Griffs with 5:53 remaining in regulation. That came after Army's Thomas Farrell and Matt Berkovitz each tallied in the first half for the third to give Army the lead.
The Black Knights scored the only goal of the first period, a tally from Jake Felker. But the second period belonged to Canisius as Simon Gravel tied the game at 6:02 and Mitchell Martan gave the Griffs their first lead just 46 seconds later.
Jacob Barczewski earned the win in goal for Canisius making 26 saves.
The loss puts Army, a bubble team for the NCAA Tournament, into extreme peril to secure an at-large bid. Canisius will need to win on Saturday to punch its first NCAA ticket since 2013.