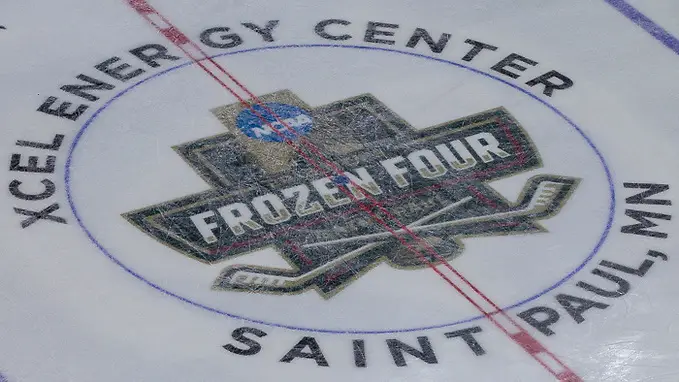 Here's how members of the USCHO staff see Thursday's 2018 NCAA men's Frozen Four semifinals shaping up:
Minnesota Duluth vs. Ohio State, 5 p.m. CDT
Drew Claussen: The Bulldogs should have the crowd on their side; I'll say that's enough to pick up a close victory. Minnesota Duluth 3-2
Jim Connelly: For some reason, maybe it was the 1-in-64 chance of getting into the tournament, making it by .0001 percentage points or advancing to the Frozen Four after falling being 2-0 in their opening game of the regional, but I feel like Minnesota Duluth is that team of destiny. Minnesota Duluth 3-2
Nathan Fournier: The experience of last season's Frozen Four and their strong defense should cement another title appearance. Minnesota Duluth 4-2
Jack Hittinger: In a rematch of last year's NCAA West Regional quarterfinal game, Ohio State will be motivated to erase that history. Which means it will be a close game. But I think UMD will advance playing on the ice in St. Paul. Minnesota Duluth 4-3
Candace Horgan: I'm going all in with Scott Sandelin and the NCHC. Minnesota Duluth 3-2
Chris Lerch: The "last team in" has seen a lot of success the past few years, and I'm looking for that to continue. Minnesota Duluth 2-1
Nate Owen: Both teams have good goaltending and a lot of scoring depth, but I think the Buckeyes have been a little more consistent in the last few weeks. Ohio State 4-2
Matthew Semisch: Ohio State is the real deal, but I have a feeling UMD will try to recreate some St. Paul magic. Minnesota Duluth 4-2
Paula C. Weston: I've been saying all season that Denver or the team that gets past Denver in the NCAA tournament will play for a national championship, and I'm sticking with that prediction. Ohio State 3-2
Michigan vs. Notre Dame, 8:30 p.m. CDT
Drew Claussen: Cale Morris is a hot goalie. Never bet against a hot goalie. Notre Dame 3-1
Jim Connelly: While Notre Dame might have the defense and goaltending, its inability to produce might be its Achilles' heel if this becomes an up-and-down game. I'm going with the upset. Michigan 5-3.
Nathan Fournier: The Fighting Irish have the best goalie remaining in the tournament plus enough offense to get them to the title game. Notre Dame 3-1
Jack Hittinger: ND/Michigan matchups are fun in any sport, but this one seems to pack even more punch this year. I think the Irish take it behind some solid goaltending to advance. Notre Dame 4-1
Candace Horgan: I don't know too much about the Wolverines. Notre Dame has been atop the Big Ten all season, and I have to think there's a reason for that. Notre Dame 4-2
Chris Lerch: I'm picking Notre Dame to earn some redemption after last year's semifinal performance. Notre Dame 4-2
Nate Owen: The Fighting Irish seem to keep winning no matter the situation, including in the NCAA East Regional when goalie Cale Morris was good, but not great. Notre Dame 3-2
Matthew Semisch: Michigan has the best offense still in the tournament, and I think Notre Dame's roll in one-goal games ends here. Michigan 3-1
Paula C. Weston: The Fighting Irish have won their last four games by a goal and twice in overtime. Regardless of who they play, the Irish find ways to win. Notre Dame 3-2