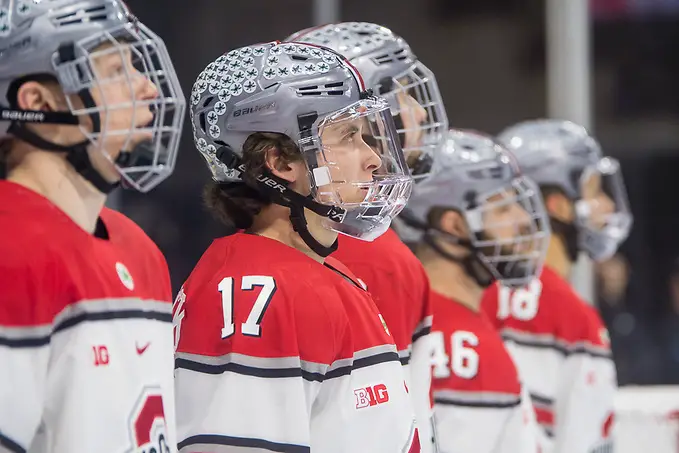 The inaugural NCAA Midwest regional in Allentown, Pa., featured several subplots vying for attention.
Penn State hosting, turning the PPL Center into a de facto home game. Denver, on a roll again and seeking to defend its national title. ECAC champion Princeton, riding a seven-game winning streak and boasting the nation's top power play.
Oh yeah — top-seeded Ohio State, the nation's fifth-ranked school and its 24 wins was there, too, somehow skating under the radar. When it was all over, though, the Buckeyes had two more solid victories and were headed to their first Frozen Four in 20 years.
"It feeds into our game by having a chip on our shoulder," said OSU junior forward Dakota Joshua, who backhanded home OSU's first goal in a 5-1 regional final pasting of Denver. "I'd like to see your brackets on who you guys (media) picked, but not a lot of people had us coming out of this side."
The Buckeyes had come up just short in the Big Ten championship contest on March 17, falling in overtime to host Notre Dame. Making matters worse was the loss of senior forward Matthew Weis to injury prior to that game, and for the rest of the 2017-18 campaign.
"People forget that Matt Weis is one of the best players in our league, and one of the best players in the country," said Buckeyes coach Steve Rohlik, who captained Wisconsin to the 1990 NCAA title as a player. "When you lose somebody like that, it's the next man up and starting with me and my staff, we all have to be a little bit better."
They certainly were in Eastern Pennsylvania, both with opportunistic scoring and stifling defense.
It started with a 4-2 win over Princeton in the early regional semifinal. The Buckeyes scored twice in 20 seconds in the opening period, shut down six of seven Princeton power plays in all, and didn't allow a goal by the Tigers until the final 26 seconds of regulation.
It continued with the rout of Denver, with OSU refusing to allow the high-flying Pioneers any time and space to freewheel. The Buckeyes took a 2-0 lead into the third period, made it 3-0, and then held on doggedly, despite not receiving any power plays of their own.
"You don't replace Matt, but again, next man up has got to come in and do the job," said Rohlik. "That's why you have 27 guys."
Teammates definitely stepped up in Weis' absence.
There was Joshua, who along with his goal against Denver won 26 of 39 faceoffs (67 percent) on the weekend. There was defenseman Wyatt Ege, a former transfer from Alaska Anchorage, who blocked a team-best seven shots against DU and is now headed back to his home state of Minnesota for the Frozen Four.
There was top line right wing Tanner Laczynski chipping in with three points, including a goal and an assist versus Princeton. There was senior left wing Kevin Miller, who added to his five goals on the season with three more in Allentown, including the game-winner against DU.
Then there was the most outstanding player of all, in junior goaltender Sean Romeo. He was sidelined last season after transferring from Maine, where he sat out all but two games as a sophomore after splitting starting duties there as a freshman.
Romeo shook off the accumulated rust of a year's inactivity to win 20 games for the Buckeyes this season, and then stopped 53 of 56 shots in Allentown to earn MVP accolades.
"He's been there all year, he's been our rock," said Rohlik. "He's just so steady and gives your team confidence."
That included 30 saves against DU, with 15 stops on 16 shots in the final period alone. Romeo's forwards and defensemen also helped out, by blocking no less than 40 opposing attempts over the two regional contests.
"It makes my job a lot easier when you have guys buying in like that, blocking so many shots," said Romeo following the win over Princeton.
Now the Buckeyes are preparing to face a Minnesota Duluth team that ended OSU's season in the West regional in overtime last spring.
"It is huge for the program," said Miller. "We haven't been here for 20 years, I think it is now, and I am just proud of the program that we are getting back to this point. I am a senior now, and the past four years we have developed into a really great team."
In a year in which OSU's women's team made its own Frozen Four, the men's squad is now stepping up on its highest national stage, for the first time since then-netminder Jeff Maund backstopped the Buckeyes to Boston in 1998. OSU fell to Boston College in the semifinals back then—but this is 2018.
"Hopefully, people know who we are now," said Joshua.
Better believe it.