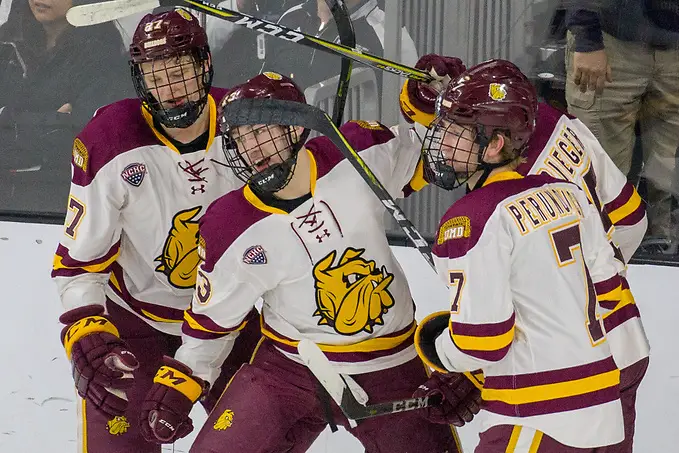 The lure of playing for something has always been an insatiable sensation.
When you finally achieve it, the feeling never really goes away. In fact, you want it more — this is the case since childhood.
Minnesota Duluth started its 2017-18 season with injuries to key players, but when so early on, it's sometimes overlooked as they return and bring promise. It's never a sure thing to become a national champion, but to get there you will surely need a spark from time to time.
UMD could not find their moment at the NCHC Frozen Faceoff. The season felt like it had reached its limits after suffering losses to Denver and North Dakota. The ECAC and Hockey East titles were being claimed only to Duluth's dismay. Any illusions of an NCAA tournament berth quickly evaporated.
That is, of course, if you're not relying on .0001 of a margin to get you into the national tournament.
"I think the way we got in was a spark for our team," UMD coach Scott Sandelin said. "It was dramatic, and I think the guys really appreciate the opportunity they got because that's how hard it is sometimes."
The most unlikely of scenarios needed to happen for the Bulldogs to grace national tourney ice. Many at-large bids were at the root of the drama and on the other side stood Minnesota hoping it wouldn't be UMD — the final at-large bid was up for grabs.
Denver, Michigan Tech, Air Force and Notre Dame needed to win conference titles in order for .0001 of a point in the RPI to boost the Bulldogs in. The Bulldogs found a glimmer of hope from such an uncommon situation.
"It's amazing when sometimes you get that second life," Sandelin said. "That's kind of how it felt even though in most normal years, it probably wasn't that way. The rollercoaster of emotions maybe helped us get focused a little faster."
Insatiable as it may be, you always want another crack at the opportunity exactly the way UMD is getting for the national championship. In beating both Minnesota State and holding off Air Force at the West regionals, they are returning to the site of their greatest triumph and second straight Frozen Four appearance.
UMD won the 2011 Frozen Four at the Xcel Energy Center in St. Paul, Minn., against a potential foe this year, Michigan. The Bulldogs beat Notre Dame in the national semifinal matchup. The feeling resonates deep and nobody else embodies UMD hockey more than Sandelin himself.
Along the weekend, Sandelin coached to his 723rd game behind the Bulldogs' bench — equivalent to 18 seasons of hard work. Sandelin is only behind Enrico Blasi in the NCHC, who capped off 19 seasons total with Miami this past year.
In 2011, Sandelin coached UMD to the program's first national championship. The club has had consistent NCAA tournament appearances since capturing the crown. A promising season to be last spring ended in heartbreak, falling to Denver in the Frozen Four final in Chicago.
With Denver being stunned by Ohio State in the Midwest regional final, the road seems less bumpy for UMD, who fell to Denver in all five meetings this season.
For the tandem of Karson Kuhlman and Jared Thomas, they are skating in their fourth consecutive NCAA tournament and are the only two with such distinction in their program's history.
"We got veteran guys like (Karson) Kuhlman who's out there and puts his heart on a sleeve," UMD forward Joey Anderson said. "He sets an example for everyone. Guys just follow him [and] you can't just watch a guy like that and not give it your all. It's infectious in the locker room."
UMD was picked to finish fourth in the preseason poll and now, the NCHC's only representative among a trio of Big Ten schools racing to be crowned college hockey's best. Rankings at this point are only aesthetic with the talent and parity being so real.
One thing is certain — the Bulldogs are two wins away from making the most of .0001.