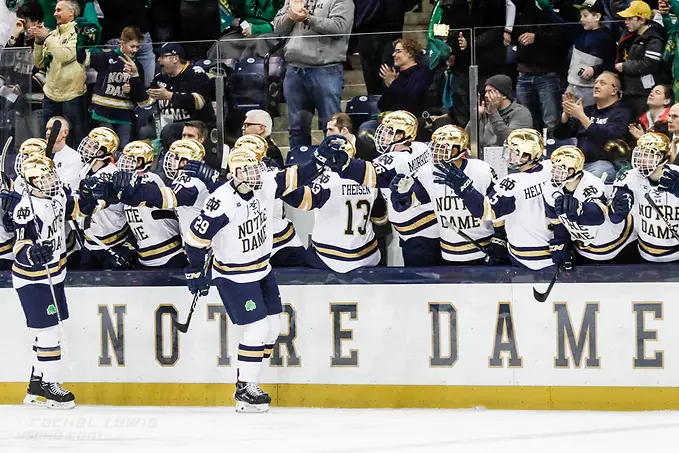 East Regional
At Webster Bank Arena, Bridgeport, Conn., March 23-24
• Friday: Notre Dame vs. Michigan Tech, 3 p.m., ESPN2
• Friday: Providence vs. Clarkson, 6:30 p.m., ESPNU
• Saturday: Friday winners, 6 p.m., ESPNU
No. 1 Notre Dame
Overall record: 25-9-2
Big Ten record: 17-6-1
Playoff results: Defeated Penn State in Big Ten semifinals, defeated Ohio State in the Big Ten championship game
How they got in: Won Big Ten tournament
Why they will advance to the Frozen Four: As he demonstrated during Notre Dame's 16-game winning streak this season, goaltender Cale Morris possesses the ability to steal a game. If he gets on a roll, the Irish will be hard to stop.
Why they will not advance to the Frozen Four: The Irish showed they were beatable, going 2-4 the final three weekends of the regular season, and Notre Dame's offense has gone cold at points this season.
Notable quotable: "We've got to recognize that in this tournament, anything can happen. Last year, we were a No. 4 seed and knocked off the top seed, so that's how close it is. It's like the Sweet 16 in basketball. If you just pick the top 16 teams in basketball, you know how tough of a tournament it would start with and that's what college hockey is all about." – Notre Dame coach Jeff Jackson.
— Drew Claussen
No. 2 Providence
Overall record: 23-11-4
Hockey East record: 13-7-4
Playoff results: Swept Maine in Hockey East quarterfinals, defeated Northeastern in overtime in semifinals, lost Hockey East championship game to Boston University
How they got in: At-large bid
Why they will advance to the Frozen Four: As Northeastern coach Jim Madigan noted last Friday, Providence "is a hard and heavy team to play against." The Friars may not be flashy, but they win more than their share of one-on-one battles and they do all the little things well (see Brian Pinho on faceoffs). Most of all, they're a strong defensive team with an excellent penalty kill.
They also have a goaltender with the best name in the sport (Hayden Hawkey). That counts for something, doesn't it?
Why they will not advance to the Frozen Four: The Friars have a good, but not great, offense (22nd in the country), and a power play that might be adequate in the regular season but looks rather anemic (34th) compared to the other tournament teams. Clarkson matches them on defense and totally outguns them on the power play (fourth at 26.25 percent).
Notable quotable: "It's going to be important to win the specialty teams. Clarkson is a very good power-play team, and they do a very good job of getting power plays. So our PK is going to have to be very good. We didn't get any power plays in the Hockey East championship game, so we'll need to make the most of the opportunities we get." – Friars coach Nate Leaman
— David H. Hendrickson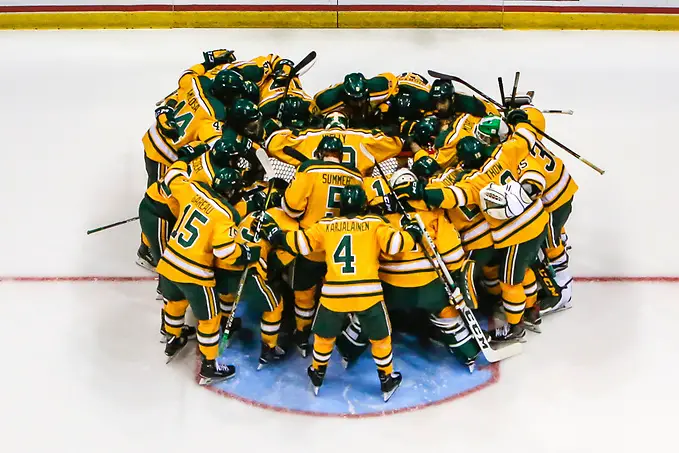 No. 3 Clarkson
Overall record: 23-10-6
ECAC Hockey record: 12-5-5
Playoff results: Beat Colgate in the ECAC Hockey quarterfinals, beat Harvard in the semifinals, lost to Princeton in the championship game
How they got in: At-large bid
Why they will advance to the Frozen Four: Clarkson is a balanced team with a dangerous all-sophomore top line in Devin Brosseau, Sheldon Rempal and Nico Sturm, as well as a talented defensive group anchored by goalie Jake Kielly.
Why they will not advance to the Frozen Four: The Golden Knights played well during the stretch run, but weren't getting the results, as they won only once in February. If some of that bad luck carries over into the national tournament, it could be a quick exit for Clarkson.
Notable quotable: "I've had years where I've really been coaching hard down the stretch and you know you're not getting a championship out of those types of seasons because the message isn't sinking in and it's not a whole buy-in. We have complete buy-in with this group and it comes from the [seniors] that sets the tone with that." – Clarkson coach Casey Jones
— Nate Owen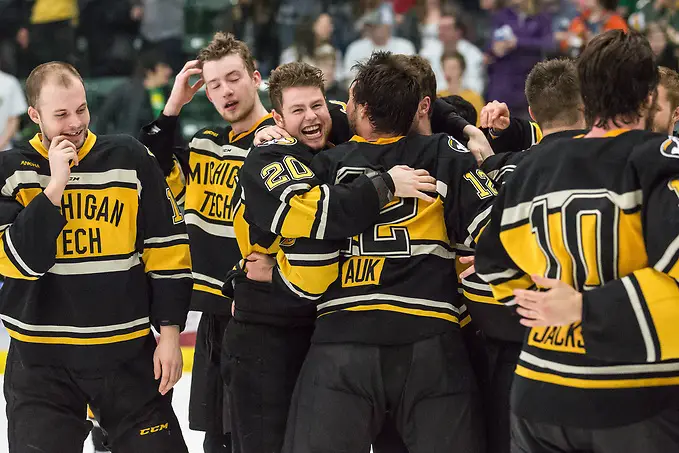 No. 4 Michigan Tech
Overall record: 22-16-5
WCHA record: 12-11-5
Playoff results: Beat Bemidji State in WCHA quarterfinals, beat Minnesota State in semifinals, beat Northern Michigan in championship game
How they got in: Won WCHA championship
Why they will advance to the Frozen Four: After some struggles in the first half of the season, the Huskies' goaltending and defense has been solid down the stretch — most notably in the playoffs. They held Minnesota State, the nation's highest-scoring team, to just five goals in their three-game semifinal series. And they seem to have a goaltending team that can get the job done no matter which of the three is in the net. Senior Devin Kero had locked the job down but was injured in the first game of the MSU series. Transfer Packy Munson has played all three games since — including his first shutout of the season on Tech's 2-0 title game win against rivals Northern Michigan. If Tech is going to have any chance of escaping their regional, they'll need to get the most out of their goalies.
Why they will not advance to the Frozen Four: Which Huskies team will show up? They've been in playoff mode for a few months now and have been playing very well, but if the same struggles they had at the beginning of the season pop up — like lack of scoring, or if they get hit with the injury big again — they might be in trouble against teams like Notre Dame and Clarkston.
Notable quotable: "You have to have goaltending to have success. If we didn't have it, we weren't going to have success. We got it and I'm extremely proud of them. They earned it. This has not been an easy ride for them. To me, it looks like a strength now. Throughout the year, there were questions, but right now it looks like a strength." – Michigan Tech coach Joe Shawhan, on his team's goaltending crew
— Jack Hittinger