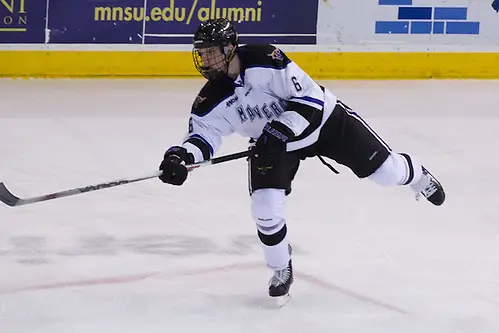 The WCHA coaches and the media who cover it overwhelmingly picked Minnesota State to win the league this year. The Mavericks are the defending MacNaughton Cup champions and have had the Broadmoor Trophy for two years.
Not a question, right?
"We've got a lot of questions," said coach Mike Hastings, who is entering his fourth season with the Mavericks and has more wins over that time than any other coach.
The Mavericks coach went ahead and started asking those questions himself, right after reeling off just what's missing from the team that was No. 1 in the nation when the NCAA tournament began (the Mavericks were defeated in shocking fashion in the first round by Rochester Institute of Technology).
Gone is a six-player senior class — one that included All-Americans Matt Leitner and Zach Palmquist — that played in a total of 923 games and compiled 514 points over the last four seasons, along with last year's No. 1 goaltender, Stephon Williams, who turned pro a year early.
So why all the love from the coaches and media?
"The group that's here now is benefiting from what the previous two teams have accomplished," Hastings said. "We need to get to the bottom of that hill and start climbing again."
The cupboard's hardly bare, though. Returning players include senior forward Bryce Gervais, who was second in the country with 27 goals last season; junior Casey Nelson, who was the WCHA's top-scoring defenseman; and Cole Huggins, who, two seasons ago, was the league's goaltending champion and Final Five MVP.
The Mavericks, who outscored foes 145-77 last season, return all of their double-digit goal scorers, including Gervais, who was the media's choice as preseason player of the year, and Brad McClure (15 points), Dylan Margonari (14) and Teddy Blueger (10).
Last season
29-8-3, 21-4-3 (first) in the WCHA. Won the WCHA Final Five, lost in first round of the NCAA Midwest Regional.
Names to know
McClure and C.J. Franklin had outstanding rookie years. The former was Final Five MVP, and the latter was a WCHA all-rookie team pick. Carter Foguth, a junior defenseman, is the Mavericks' captain. Forward Jimmy Mullin is a graduate transfer from Miami playing his final season at Minnesota State.
Three questions
1. Can Gervais get it done without Leitner, the primary assist man on nearly half of his goals?
2. Can junior goalie Huggins rediscover the form that made him so successful as a rookie?
3. After losing in the first round three years in a row, can Minnesota State win at the national tournament?
Crystal ball
How the Mavericks survive an early season schedule that includes 10 straight weekends without a break, nonconference series against Omaha, St. Cloud State (road) and Minnesota (home and home) and WCHA road series at Bemidji State, Ferris State, Northern Michigan and Bowling Green will determine their NCAA fate.