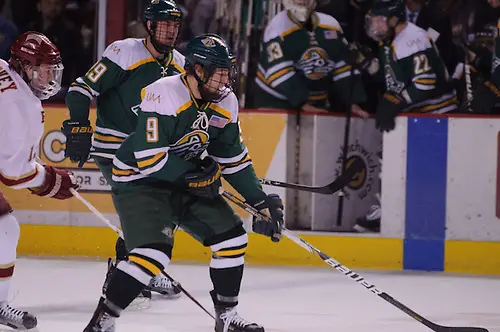 Matt Thomas found out a year ago that turning around a struggling program isn't as easy as it seemed.
In 2013-14, his first season as Alaska-Anchorage's coach, Thomas took a four-win team to 18 victories, including a first-round playoff series win, which earned the Seawolves a trip to the WCHA Final Five where they were within overtime of going to the title game.
They looked like a program on the rise.
Instead, the Seawolves stumbled in 2014-15, falling all the way back to the WCHA cellar.
"We had a tough year last year," Thomas said. "My second year behind the bench was one that didn't go nearly the way we wanted. … We had issues in a lot of different areas. But we feel we've addressed a lot of them."
Thomas said he's practicing patience this year, not necessarily branding success as a top-four league finish, especially with a young team.
"I think the realistic thought for us is: We need to be better than we were last year," Thomas said.
The roller coaster ride hasn't just made Thomas queasy. The team's four seniors, who include forward and leading scorer Blake Tatchell, have felt it, too.
"That class came in as freshmen, and that was a very tough year for them, … the type of year they never wanted to repeat," Thomas said. "Their sophomore year, they ended up having a great season [compared] to the season before. It was a real quick turnaround, and they were excited we were going to do it again. Last year we reverted back to their freshmen year. They've tasted two very subpar years."
Thomas said he doesn't want to strap that group with the burden of carrying a young team, but he hopes it can help steer the Seawolves back in the right direction.
Last season
8-22-4, 5-21-2 (10th) in the WCHA. Missed the conference playoffs.
Names to know
A real bright spot for the Seawolves last season was the play of goaltender Olivier Mantha, who took over the nets as a freshman, playing in 29 games. Tatchell has led Anchorage in scoring in two of his first three seasons and has never missed a game. Defensemen Austin Sevalrud, Blake Leask and Chris Williams are the other seniors.
Three questions
1. Can the Seawolves become a more disciplined team after leading the WCHA in penalty minutes a year ago?
2. After having none last season, is there a double-digit goal scorer on the roster?
3. When will Anchorage break its winless streak outside the state of Alaska, which is at 17 games entering the season?
Crystal ball
If the Seawolves can make Sullivan Arena a tough place for opponents as they did two years ago, they'll be back in the league playoffs.