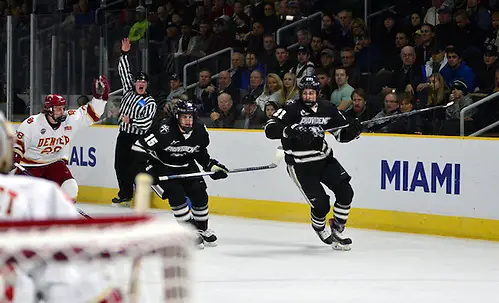 When the NCAA last awarded Frozen Fours and regionals nearly two years ago, it deliberately avoided the 2017 and 2018 regionals, thinking there might be a new tournament system in place by then.
Calls for on-campus NCAA tournament games were getting louder, fueled by small crowds and unmemorable atmospheres for regionals at predetermined neutral sites.
An "overwhelming majority" of coaches, however, said this offseason that they didn't want to see any changes to the regional format.
So we're back to a bidding process for the 2017 regionals, with the window for proposals to be submitted by host sites closing last Friday. The winning sites are expected to be announced in September. (Bid documents can be found here and here.) The NCAA still has neutral-site venues with NHL-sized ice surfaces as priorities.
North Dakota athletic director Brian Faison, the chair of the NCAA Division I Men's Ice Hockey Committee, said in March that he would push for the tournament to include games at home sites. But it became clear in the weeks following that it wasn't as clear-cut as that.
Before the Northeast Regional in Manchester, N.H., Yale coach Keith Allain made an emphatic case for keeping things as they are.
"I think it would be a terrible thing to move these games to campus sites," said Allain, whose school has hosted multiple regionals in Bridgeport, Conn., but has never come away from those as regional champion. "It's exciting to come to these venues that we don't get the chance to play in often.

"If you put it on a campus site, it's a tremendous advantage for the team that is hosting. They're in their own locker room, they've got their own fans. I think it takes away from the national feel of a national tournament. It becomes just a regular college hockey tournament. So I would be totally against it."
The 2016 regionals are already set for Albany, N.Y., Worcester, Mass., Cincinnati and St. Paul, Minn. — all familiar venues for the tournament. But familiar hasn't necessarily meant successful in attendance or atmosphere in recent years, and that's why some have called for a new look.
But that idea, it seems, is at least temporarily on the back burner.