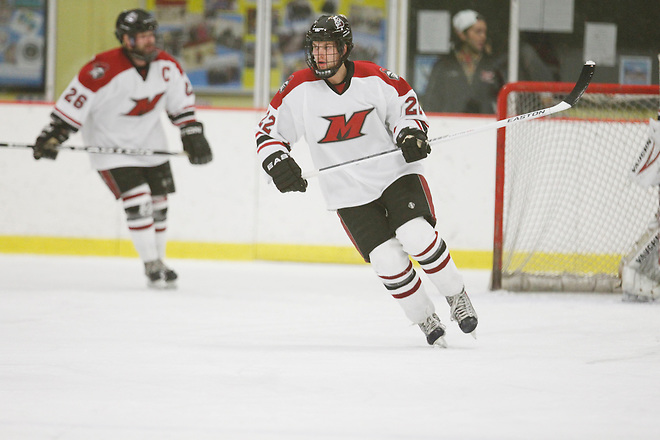 The mighty fell on Saturday night in the ECAC West Tournament semifinals, and now it'll be the third and fourth seeds meeting for the league title this Saturday when Manhattanville College visits Neumann University. The two schools went 1-1-1 against one another this season.
No. 3 seed Neumann (18-6-3 overall) topped No. 2 Hobart (19-5-2) on Feb. 23 for the second time in two weeks, as the Knights used a 43-save effort from Braely Torris to defeat the sixth-ranked Statesmen, 2-0, and advance to this weekend's ECAC West Championship Game.
"It was pretty back and forth," said Neumann coach Dominic Dawes. "They carried the play in the third (period), and Braely's been there night in and out. He's been our backbone all year."
The Southern Maine transfer, who also made 32 stops in a 3-1 win over Hobart on Feb. 9, got by with a little help from his friends in the rematch.
"We played well in front of him," said Dawes. "We blocked shots and took advantage of our opportunities, and that was the biggest difference in the game."
Senior defenseman Scott Farrell notched the game-winning goal on a power play in the second period, and Craig Cowie followed up with an insurance tally just under eight minutes later.
No. 4 seed Manhattanville (15-9-3) then stunned top-seed and seventh-ranked Utica (20-5-1) by a 2-1 count in overtime, as Paul Sirignano connected 8:24 into the extra session. Alex Scola also made 40 saves for the victorious Valiants in front of a crowd of 3,682 at the Utica Memorial Auditorium.
"It was pretty exciting, and I was pretty happy for Sirignano," said Manhattanville coach Arlen Marshall of the sophomore forward, who had been previously injured in a game against Elmira after he missed a check and went down awkwardly.
"It was a scary moment, but he came back okay," added Marshall.
Paul Allan Bamberg scored the Valiants' first goal on a power play against Utica to erase a 1-0 second-period lead by the host Pioneers. Utica had earned a win and a tie the previous weekend at Manhattanville, and had only lost twice at home all season prior to last Saturday.
"The last few weeks, we've stressed being great in the defensive zone," said Marshall. "You can't give up too many goals in our league, and so definitely our emphasis is on defense."
That includes Scola, who has made five consecutive starts in net for the Valiants.
"He's played phenomenally," said Marshall. "I'm happy for him, and he's made some big saves."
Neumann, now ranked 12th in Division III, won its only ECAC West Tournament to date in 2009, when it also went on to claim the NCAA Division III national championship. Manhattanville, now 14th in the nation, previously won league tournament titles in 2005, 2007, 2008, 2010, and has garnered four NCAA tournament berths in its history.
The two schools have met before with the league title on the line. The Knights and Valiants faced off for the 2007 ECAC West championship, with Manhattanville winning, 5-4, in overtime on a goal by Troy Maleyko.
"We've split down the middle, with a goal differential of one goal," said Marshall of this season's series. "Both teams know what to expect, and it should be a tight game. We're looking forward to it, and it should be a lot of fun."
"We've been in playoff mode the last couple of weeks," said Dawes. "We've been given an opportunity to play next week, and that's what it's all about."
In the preliminary round ECAC West playoff games on Feb. 20, Neumann recorded a 4-1 victory over sixth-seeded Nazareth (6-19-1). It was the Knights' fourth straight win against the visiting Golden Flyers, and third in three games following a two-step sweep in the regular-season finale. Harley Garrioch scored one goal and set up two others for Neumann, while Sean Crozier had a goal and an assist, and Torris made 19 saves. Dan McDougall's first career collegiate goal stood up as the game-winner for the Knights, while Scott Dawson scored Nazareth's only goal and Ed Zdolshek made 26 stops in net as the Golden Flyers closed out their inaugural campaign.
Manhattanville upended fifth-seeded Elmira (10-16) by a 9-1 count in the other first-round game, giving the Valiants a four-step sweep over the Soaring Eagles this season. Seven different Valiants scored goals, with Brendan Turner leading the way with three goals and an assist as Manhattanville outshot Elmira, 55-16. Bamberg and Matt Coleman each posted a game-high two assists apiece, while Scola made 15 stops. Brian Depp scored Elmira's only goal, while Ryan deMelo and Darren McDonald combined for 46 saves in net. The loss ended Elmira's 2012-13 season, and also its run of five consecutive NCAA Division III tournament appearances.
 
ECAC WEST NOTES
Utica sophomore forward Louie Educate, a transfer from Nichols, was the ECAC West Player of the Year and a member of the First Team All-ECAC West. Junior forwards Jon Gaffney and Trever Hertz were named Second Team All-ECAC West, as were freshman defenseman Danny Olivieri and junior goaltender Nick Therrien. Junior blueliner Mike Slowikowski earned Honorable Mention accolades, while Olivieri was also named to the All-Rookie Team. Coach Gary Heenan was tabbed as ECAC West Coach of the Year. The ninth-ranked Pioneers, who were eighth nationally in the latest Division III PairWise Comparison, seem like a good bet to advance to the NCAA tournament for the first time in program history.
Hobart senior defenseman Brad Richard was the ECAC West Defensive Player of the Year and a First Team selection, while Mac Olson was the ECAC West Rookie of the Year and a member of the All-Rookie Team. Also named First Team All-ECAC West were a pair of Richards' classmates, Frank Salituro at forward and Nick Broadwater in goal. Sophomore blueliner Ryan Michel was chosen Second Team All-ECAC West. The eighth-ranked Statesmen were ninth nationally in the latest Division III PairWise Comparison, and will also be looking for a berth in the NCAA tournament.
Neumann senior defenseman Scott Farrell was selected First Team All-ECAC West, while junior netminder Braely Torris was named Second Team All-ECAC West. Senior forward Jordan Zalba earned Honorable Mention.
Manhattanville senior forward Scott Hudson garnered First Team All-ECAC West recognition, as did sophomore defenseman Anton Racklin. Junior forward Luke Van Natter was named to the Second Team, while freshman forward Matt Coleman was an All-Rookie selection.
Elmira sophomore forward Josh Burnell was named Honorable Mention, and freshman forward Mike Collins made the All-Rookie squad.
Nazareth freshman defenseman Scott Dawson and freshman goaltender Joe Gladnick were both chosen to the All-Rookie Team.