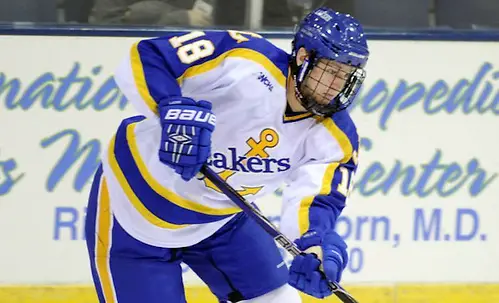 At times last season, the pressure on Gordon Defiel was almost too much.
"He kind of felt if he gave up one goal, it was going to be a tough night for us," second-year Lake Superior State coach Damon Whitten said of his sophomore goaltender last season. "We just didn't have guys behind him that could take the pressure off some nights."
The Lakers finished 8-28-2 overall last season and Defiel started in all but three of those. Although the Lakers once again finished as one of the worst teams in the WCHA, their goaltending wasn't the reason — Defiel led the country in goals allowed, but he also faced the most shots and made the most saves after playing 90 percent of his team's minutes.
"A lot of the success we'll have this year will be determined from the back end out," Whitten said. "A lot of the success we can build on this year, [Defiel will] have a large part to do with that."
Freshman Nick Kossoff, fresh from the Keystone Ice Miners of the NAHL, should give Defiel some healthy competition.
On the blue line, senior Eric Drapluk anchors a group of five sophomores who all saw significant minutes as freshmen last season.
Up front, the Lakers were one of the worst scoring teams in the NCAA — ahead of only bottom-ranked Princeton — with just 60 goals in 38 games.
"We'll need to score by committee," Whitten said. "We'll be very challenged offensively. We'll need some guys to step up and emerge."
Bryce Schmitt could be the one to emerge. The team's returning scoring leader, he had 15 points last season and seven goals. And Alex Globke, who was the WCHA's rookie of the year in 2013-14, will look for a bounce-back season after scoring just five goals and five assists last year.
Whatever happens, expect defense to be a hallmark of this team and allow it to steal a few games — especially if Defiel can stand on his head.
"In the first half of last year, we were in the bottom three teams in team defense," Whitten said. "After Christmas we were in the top 20. "That didn't necessarily show in our record, but we had great growth in the back end and we expect that to be a starting point on our team this year."
Last season
8-28-2, 7-20-1 (tied for eighth) in the WCHA. Lost to Minnesota State in the first round of the WCHA playoffs.
Names to know
Sophomore goaltender Defiel (8-26-2, 3.08 GAA, .915 save percentage) led the nation in saves last season — in part because the Lakers gave up a ton of shots. But he's a talented goalie and among the WCHA's talented crop of netminders. The Lakers will need some scoring, though — Schmitt is the team's returning scoring leader but junior forward Globke should also contribute, along with freshmen forwards Anthony Nellis, Jake Hand and Gage Torrel.
Three questions
1. Can Defiel will the Lakers to a few more victories this year than he did last season?
2. Can the Lakers get someone to step up and score 20 or more points?
3. How will LSSU's young defense improve? All five sophomores played significant minutes as freshman.
Crystal ball
The WCHA might have reached critical mass on goaltending, and although Defiel is one of the better ones in the conference, just about every team has a bona fide goalie this season. If they can't find ways to score — and it's hard to see where that's going to come from unless a few players have breakout seasons — the Lakers will be trying to get themselves out of the cellar for the third straight season.