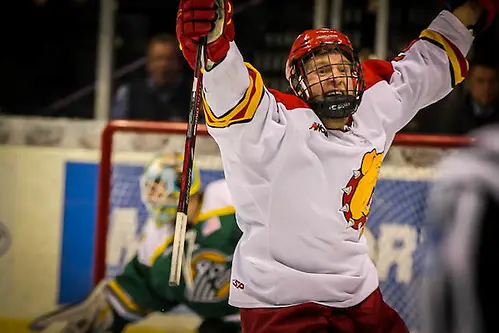 You may not know who Charles Williams is, but Bob Daniels does, and he believes in him.
Williams, a junior goaltender, will be called on to take the place of the great CJ Motte, who didn't leave the Ferris State net very much over the last three seasons, playing in 127 games.
Williams didn't play last season, recovering from an Achilles tendon tear. Two seasons ago, he spelled Motte five times, shutting out Michigan Tech on the road the last time he started — Jan. 25, 2014.
"We've had an unbelievable run of great goaltending," said Daniels, the Ferris State coach. "All of a sudden it's one of our big question marks. But it's not as big a question for us with Charles Williams."
After winning the MacNaughton Cup in 2014, the Bulldogs fell to sixth place last season, although they beat Bemidji State on the road in the playoffs to get to the WCHA Final Five.
Ferris State was stingy with Motte and a good defense, allowing just 88 goals for the season. Scoring was an issue, though, as they also put in 88 pucks, just 16 on the power play. Daniels believes the offense will be better this year with the return of eight of their top nine scorers from a year ago, including juniors Gerald Mayhew, Chad McDonald, Kyle Schempp and Jared VanWormer.
"Some big roles fell on our sophomores [last year]," Daniels said. "They were thrust from secondary roles into primary roles. … It was a tough transition and a lot to put on a sophomore class. This year they should be the beneficiaries of that."
Besides Motte, Ferris State lost just four other players to graduation, although two were regular defensemen Jason Binkley and Travis White.
Last season
18-20-2, 13-14-1 (sixth) in the WCHA. Lost in the Final Five semifinals.
Names to know
Mayhew and senior forward Matt Robertson led the Bulldogs in scoring last season with 23 points each. Robertson has played in 101 career games, scoring 48 points. Canadian Junior MVP Corey Mackin, a forward, was the coaches' pick for WCHA preseason rookie of the year. Daniels expects senior defenseman Simon Denis to be back to form; last year was his first back after suffering a broken bone in his back.
Three questions
1. Can Charles Williams — or anybody, for that matter — stand in for CJ Motte in goal?
2. Will the Bulldogs be able to solve their goal-scoring woes from last year, especially on the power play?
3. Daniels will get win 400 this season, but, starting at 397-409-89, will he have an overall winning record at the end of Year 24?
Crystal ball
Despite it being in their backyard in Grand Rapids, Mich., the Bulldogs will miss out on the Final Five this season.