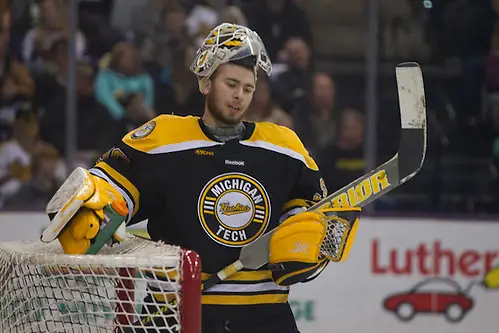 The way last year's milestone season ended, the Michigan Tech Huskies won't need much motivation for this one.
The Huskies, following a 29-win season and their first NCAA tournament appearance since 1981, came up just short at the end. They were second in the WCHA regular season, finished second in the Final Five tournament and were knocked out of the NCAA tournament in the first round.
"One of the biggest things we found out about our team was how disappointed [the players] were about last year, even though it was our best season since '77 at Michigan Tech," Huskies coach Mel Pearson said, "how disappointed we were to be one point shy of first place, to unfortunately lose in the [Final Five championship] and to lose a tough game to St. Cloud in the NCAA tournament. I think these guys know there's a lot of unfinished business and they're excited to get going."
The good news for the Huskies is that 24 players return to Houghton, Mich., for Pearson this season, including a pair of bona fide stars in goaltender Jamie Phillips and forward Alex Petan.
Phillips, a Mike Richter Award finalist and Winnipeg Jets draft pick, decided to return for his senior season to help the Huskies return to the NCAA tournament. He started in all 41 of Tech's games and had a 1.74 GAA.
"The biggest thing for our team will be in goal," Pearson said. "Last year at this time I thought it would be our biggest question mark, but going into this year I think it will be our least-worried-about position. We're very fortunate to get Jamie back for his senior season. He's looking forward to building upon his junior season."
Petan is Tech's other big name. The senior had 40 points — second only to the now-departed Hobey Baker Award finalist Tanner Kero. Petan will be expected to lead a deep group of forwards and attempt to make up for the lack of Kero's presence.
With all the pieces the Huskies have returning, Pearson thinks his team has a chance to win its first MacNaughton Cup and first Broadmoor Trophy in more than 30 years. But first the Huskies have to beat Minnesota State; they went 0-4-1 against the Mavericks last season.
"They had our number last year and obviously they're a great program," Pearson said of Michigan Tech's new nemesis. "[Mavericks coach Mike Hastings] has done a good job there, but to be the best you have to beat the best teams in your league. You have to learn how to win the games that you should win and then take care of those games against the best teams."
Last season
29-10-2, 21-5-3 (second) in the WCHA. Lost to Minnesota State after advancing to WCHA Final Five championship game, then lost to St. Cloud State in overtime in first round of the NCAA West Regional semifinals.
Names to know
Aside from Petan and Phillips, the Huskies have a talented group of more-unheralded players who might be stars elsewhere. Forward Malcolm Gould had a breakout junior season with 14 goals and 17 assists. Defensemen Shane Hanna and Cliff Watson pack a nice one-two punch on the blue line.
Three questions
1. Tech's 2014-15 was the Huskies' best season in 25 years. Can the team avoid the hangover from last year and get down to business?
2. To that end: The Huskies haven't won the MacNaughton Cup since 1976 and haven't touched the Broadmoor Trophy since 1981. Is this the year that they can break the drought for one (or both)?
3. We know that Petan will be one of the top players in the country this year, but which of Tech's role players will step up and star for the Huskies?
Crystal ball
The Huskies certainly have the weapons to win both the WCHA regular season and tournament championship. They lost the MacNaughton Cup by just one point last season — to the Mavericks — and lost to Minnesota State in the WCHA Final Five. Just beating the Mavericks once would go a long way toward a WCHA regular season and tournament title and even a No. 1 national seed in the NCAA tournament.