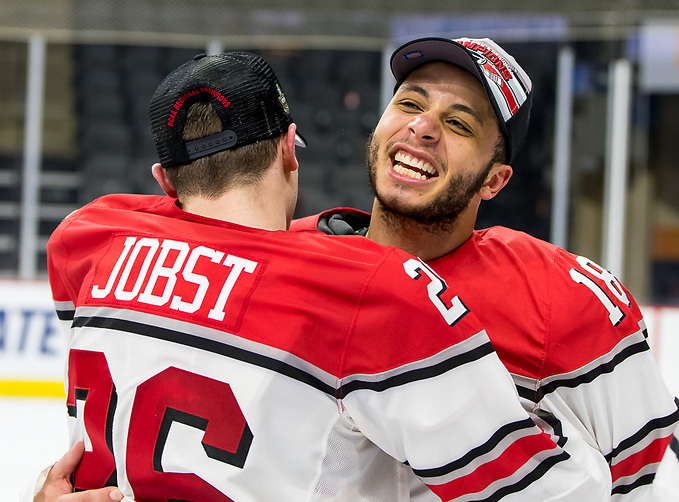 There's nothing flashy about Ohio State hockey.
The top seed in the Midwest Regional, the Buckeyes were still an underdog to Denver in that bracket, largely because the Pioneers were the defending national champions. But it was also because Ohio State was overshadowed all season by a Notre Dame team that went on an extended win streak in the first half and dominated the national conversation about the Big Ten.
So while Notre Dame was garnering all the press, Ohio State was quietly plugging along with the No. 10 offense in the country (3.25 goals per game), the third-best defense (2.08) and the nation's second-best combined special teams, including the best penalty kill in Division I.
Characteristically low-key, coach Steve Rohlik said: "We're just really excited to be here and to be a part of such an outstanding event with the three outstanding teams beside us. We're really excited and humbled to be one of those four."
In semifinal play, Ohio State faces Minnesota Duluth, the team that eliminated the Buckeyes in overtime in last year's West Regional. That loss, combined with the way Ohio State ended last year's regular season on the NCAA tournament bubble, helped the Buckeyes maintain focus throughout 2017-18.
"For our guys, it was a good learning experience," said Rohlik. "It was great to be part of and I think our guys had a mindset that we didn't want to wait until the last day of the year to try to get back to the national tournament. It was kind of the way we prepared this year. We wanted to make sure that we had another chance."
Throughout the current season, Ohio State has remained one of the most consistent teams in the Big Ten and in all of college hockey. In spite of returning a team that had lost two marquee players to graduation who had accounted for nearly a third of their offensive output a season ago, including 26 power-play goals, the Buckeyes managed to build the seventh-best man advantage in the country this year. And they've done so without a single player who's scored more than nine goals on special teams.
"Coach Bittner is a big part of that," Rohlik said of first-year assistant coach JB Bittner, an Ohio State hockey alum who served as captain in his final two years. "At the end of the day, we don't look pretty at times, but we find a way to score big power-play goals. And when you have good special teams, it's going to give you a heck of a chance."
On the other side of that special-teams equation is the Ohio State penalty kill, which is coached by another first-year assistant, Steve Miller. Miller spent 20 years as an assistant at Denver, one season at Providence and two as director of hockey at Air Force.
"Steve Miller came in and we tweaked a lot of things on the penalty kill and just kind of turned it over to him," Rohlik said. "And when you've got a goaltender that makes saves, he's your best penalty killer."
That goaltender is Sean Romeo, who spent his first two seasons on the Maine roster and who sat out the 2016-17 season at Ohio State after transferring. Romeo has been among the nation's best and steadiest goaltenders this season, in or near the top 10 in both GAA and save percentage, something that doesn't surprise Rohlik.
"I saw it when he came here last year as a redshirt," Rohlik said. "Not many guys have the preparation and the focus that he has, and it was amazing what he did last year knowing that he wasn't going to play a game, so I knew that there was something special there.
"He got off to a good start. He's just been rock solid. He never wavers. He's just been focused. Every day is the same for him. When the guy in the net's like that, it gives your team a lot of confidence."
Ohio State's roster may not be filled with household names, but five Buckeyes players have netted a dozen or more goals this season. Mason Jobst, who leads with 21 goals, is part of an outstanding yet largely unknown junior class that includes forwards Freddy Gerard, Dakota Joshua and John Wiitala, plus defensemen Wyatt Ege and Sasha Larocque.
In facing off against Minnesota Duluth again this year, Rohlik said that his veteran team's experience will be helpful but that the Buckeyes need a better game than the one they had when they beat Denver 5-1 to reach this point.
"We're going to have to," said Rohlik. "As soon as you get satisfied, you get passed up."