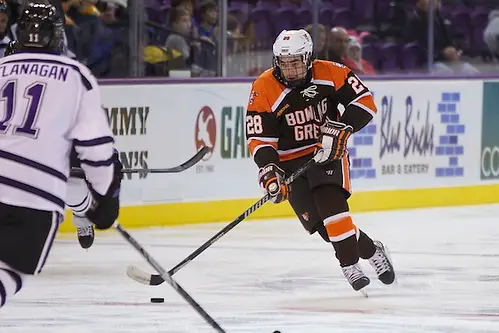 In each of Chris Bergeron's first five seasons as coach at Bowling Green, the Falcons have improved.
He inherited a five-win team in the fall of 2010 and saw the victory total immediately double. Wins jumped from 10 to 14 to 15 to 18 to — last season — 23, the most by the team in almost two decades.
Had Bowling Green gotten a 24th win, however, it probably would have been playing in the national tournament. The Falcons finished 16th in the PairWise Rankings and needed to get to No. 15 to get in the NCAA field.
It's difficult to look back and not wonder what might have been had the Falcons not been swept at home by Northern Michigan in late February or stumbled at Alaska-Anchorage a week later or lost to Michigan Tech in the Final Five semifinals.
"Looking back at the second half, we lost some games that maybe on paper we should have won," Bergeron said. "It showed our lack of experience in that situation, knowing every game matters toward national tournament implications, and a couple of those games cost us. We'll see, when somebody pushes back against us, how motivated this group is to take that next step and push ourselves into the national tournament and not be that first team out."
The roster is filled with players who will remember last season, which is also why some are picking the Falcons to win the MacNaughton Cup this year. The group includes the top four scorers from a year ago: Brandon Hawkins, Pierre-Luc Mercier, Matt Pohlkamp and Ben Murphy; defensemen Sean Walker and Mark Friedman; and all three goaltenders who got time a season ago.
"I think we'll be in the conversation this year," Bergeron said.
Last season
23-11-5, 17-8-3 (third) in the WCHA. Lost in the Final Five semifinals.
Names to know
Hawkins, who led the team in scoring as a freshman with 16 goals and 30 points, and Friedman (19 points) were two of three Falcons players named to the WCHA's all-rookie team. (Defenseman Nolan Valleau was the other but turned pro in the offseason.) Mercier and Pohlkamp each had 25 points last season, and Murphy had 21. Senior goalie Tommy Burke had good numbers (14 wins, .920 save percentage, 2.18 GAA) in 23 appearances.
Three questions
1. Is this the Bowling Green team that can leapfrog Minnesota State and Michigan Tech?
2. Can Hawkins and Friedman avoid a sophomore slump?
3. What does the surprising loss of Valleau do to the Falcons' depth on defense?
Crystal ball
The Falcons will make the NCAA tournament for the first time since 1990.