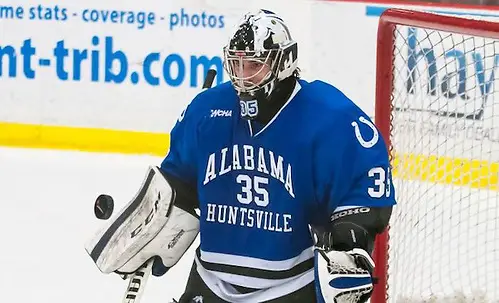 Mike Corbett knows his Alabama-Huntsville program isn't one of college hockey's blue bloods, and he knows the blue-chip recruits look elsewhere.
For the third-year coach, that's OK. His Chargers have improved steadily since his first season, going from two wins to eight last season. And they've done it with recruits that want to be in Huntsville.
"We're not the sexiest program out there, we know that," Corbett said. "We know we're building and we know we might not get a lot of help from junior coaches. But right now, to be able to get kids who want to be here, there's plenty of players out there who want to put on our jersey. And more than anything, getting kids who are up to the challenge of building this program."
It certainly seems like the Chargers are building a talented base that can compete night-in and night-out in the WCHA.
This year, the Chargers once again have one of the best goaltenders in the country in Carmine Guerriero. But unlike his freshman and sophomore seasons, Guerriero might not have to stand on his head to survive a one-goal game.
"Carmine is a guy that we have depended upon the last two years," Corbett said. "Hopefully this year with our added depth and the experience that our players have gotten in our league, he doesn't have to make 40 [saves] a night. But the great thing for us is, we know he can."
WCHA all-rookie forward Max McHugh will look to improve on his breakout 23-point freshman season, along with seniors Jack Prince and Chad Brears. The Chargers' recruiting class has seven forwards among the 10 additions.
"We're going to be able to score a few more goals," Corbett said. "Last year, we won eight games and made a good step in our program but in order to win eight games in the WCHA we had to play perfect because we didn't score enough goals.
"I think we're going to be able to pop a few more in and our team defense is going to be even better. We're going to be possibly on the winning side of some more of those one-goal games we had last year."
Last season
8-26-4, 7-20-1 (tied for seventh) in the WCHA. Lost to Michigan Tech in the first round of the WCHA playoffs.
Names to know
Guerriero once again will be expected to lead his team in the net, but Matt Larose is a serviceable No. 2 who probably would be a starter on most other WCHA teams. Senior defenseman Frank Misuraca is one of UAH's go-to defenders while Brandon Parker had 14 points — all assists — as a freshman.
Three questions
1. The Chargers have shown considerable improvement since joining the WCHA. How big will this year's stride be?
2. Last season, UAH played in 14 games in which it allowed 40 or more shots. Not surprisingly, it lost all 14. Has Huntsville's defense improved enough so those kinds of games are an oddity rather than routine?
3. Huntsville went 5-11 in one-goal games last season, including four in overtime. Can the Chargers find more scoring and decrease their chances of even having to play one-goal games? After all, both times UAH scored more than three goals, it won.
Crystal ball
That the Chargers were picked to finished eighth by both the media and the coaches in the preseason polls isn't an accomplishment, but it's a sign that Corbett's turnaround plan has thus far been a success. They should reach the double-digit win plateau and make the playoffs again this season, and don't be surprised if they pull an upset or two in the conference tournament.