A lot of hockey players will tell you they first put on a pair of skates when they were 3 or 4 years old. Others will say they learned the game during the winter months when ponds started to freeze and the sun set in the late afternoon.
Then there is Quinnipiac's Jeremy Langlois, he of Tempe, Ariz.
"I can always tell when someone used to play roller hockey. They protect the puck with their body so well and I think your hands are a little better, too."
— Quinnipiac's Kellen Jones, on Jeremy Langlois
"Usually when people ask where I am from they say, 'Oh, they don't play hockey there,'" Langlois said with a chuckle. "I get that response all the time, especially when I am on the East Coast. Arizona is not an area where you think it would be big in hockey because it is 130 degrees in the summer, but we do have hockey there and it is good hockey."
Hockey might not be the biggest sport in Arizona, but Langlois remembers the first moment when he and another friend weren't the only ones playing roller hockey.
"Once the Coyotes moved to Phoenix in '96 there was an ice rink built near my house so that was when I started skating," Langlois said. "I remember at that time there were probably 30 kids in my neighborhood and only about two of us played hockey. Then when the Coyotes moved, all the kids started coming out and we were teaching them the game."
Roller hockey beginnings
Langlois started his career as a roller hockey player mostly because he said he could play it year round. The simple game he played in the streets of his neighborhood led him into roller hockey travel leagues and eventually into ice hockey.
"I can always tell when someone used to play roller hockey," Quinnipiac teammate Kellen Jones said. "They protect the puck with their body so well and I think your hands are a little better, too."
"In general, roller hockey players are highly skilled," Quinnipiac coach Rand Pecknold said. "The game is four-on-four and you never dump the ball. It's a game of ball possession. What you see over and over again with roller hockey players that convert to ice hockey are the stick skills. They are very patient and they have good hands."
In addition to four-on-four, Langlois played without offsides, icing or hitting. He didn't play in an organized ice hockey league until he was 9. Even 10 years after the switch, Pecknold still noticed a few things when Langlois first started playing in college.
"He was definitely raw. I'm not even sure if in his freshman year he knew all the terminology we used," Pecknold said, laughing. "He just didn't grow up in a hockey hotbed."
The move East
Like most players from small hockey markets, Langlois knew he had to play somewhere else if he was going to have a chance to be found. After playing for the Phoenix Polar Bears in high school, Langlois was recruited by the New Jersey Hitmen of the Eastern Junior Hockey League for his senior season.
If you don't believe the hockey is good in Arizona, just look at what Langlois did in his only year in the EJHL, 2008-09. He led the league with 35 goals and 47 assists for 82 points and was named the most valuable player and offensive player of the year.
"In October or November he wasn't the best player in that league," Pecknold said. "It just took him a while, but the second half of the season he was just dominant."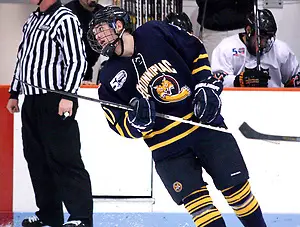 Before Langlois even got to New Jersey, the Quinnipiac coaching staff knew about his potential. Quinnipiac assistant coach Billy Riga got a tip from a friend about a kid from Phoenix that could play. That friend was Hitmen head coach Toby Harris.
"I had gone and watched [Langlois] a couple of times and basically had to hunt him down," Riga said.
"I actually had to miss a couple of our games to go and meet with him and talk with him."
During his monster season, big schools like Boston University, Boston College, New Hampshire and Cornell started calling.
"We had a relationship with Langlois before anyone else knew who he was because of the coach," Riga said. "Langlois had visited us a year before he visited anyone else. We were basically the first ones to tell him how great he could be in college. Everyone knew who he was when he committed but we started the relationship before other people knew."
When the time came to make a decision, Langlois narrowed his choices to UNH, Cornell and Quinnipiac.
"I felt like Quinnipiac was an up-and-coming school where you could make a name for the program," Langlois said.
In addition to the big college schools, a few USHL teams like Omaha, a team that didn't have room for Langlois before his breakout season with New Jersey, started contacting Langlois, too.
"One thing that is interesting about Omaha is that after Jeremy committed with us, Omaha and about 10 other USHL teams called begging to have him for a year because they thought he would do another year before he came to us," Pecknold said with a smile.
Solid senior season
Fast forward to his senior season with No. 9 Quinnipiac, which is on a 10-game unbeaten streak since a 2-1 loss to American International on Nov. 6 thanks to a stifling defense and an incredible stretch by goaltender Eric Hartzell.
And also thanks to Langlois.
Seven of his 10 goals have come in the last 10 games, including two against Union, a pair against St. Lawrence and another two last Friday against Princeton. He also leads the team in plus/minus at plus-14.
"It took him a little while to become a really good defensive center, but now I think he is one of the best I've ever had," Pecknold said. "He's got a great future ahead of him and certainly the NHL scouts are drooling over him. It's nice being a free agent."
While the future might not be set just yet, Langlois is sure of one thing.
"Hockey is probably the biggest thing in my life," Langlois said, smiling. "It gets me up every day and it's a fixture of my life and it has been for 15 years."