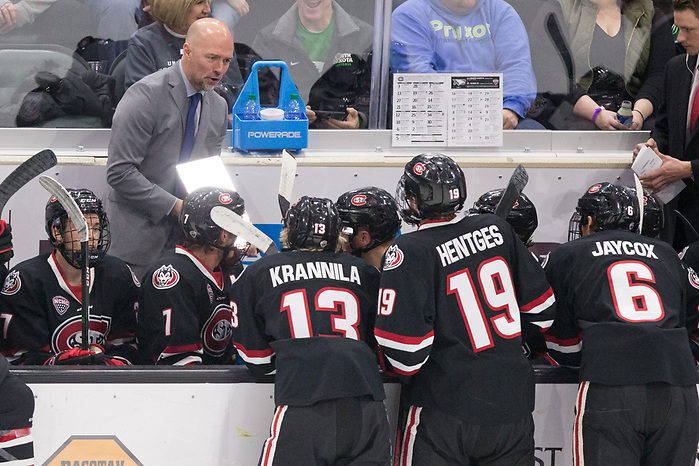 Anyone close to the program knew that this season would be a rebuilding year for St. Cloud State.
After tearing through the regular season last year with a 30-6-3 record, then falling in the first round of the NCAA tournament to an upset from American International, St. Cloud lost five of its top six scorers to graduation or early departure, and also lost two of its best defensemen to graduation.
So far this season, St. Cloud is 4-6-4.
In the last two weekends, however, it seems the Huskies have started to come together. Though they were swept by North Dakota, both games were close, including an OT loss (St. Cloud's sixth OT game this season). Last weekend, they went on the road and swept Miami, the type of series they might have split or lost in October. Part of the turnaround has been a newfound focus on defense, a defense that had struggled a lot in the early part of the season.
"We really thought that we focused on it a lot going to North Dakota," said Huskies coach Brett Larson. "We knew if we had any chance, we were going to have to keep the games tight, and we couldn't give them much. I think even though we lost both those games in North Dakota, it gave us the confidence that we can defend. It's given us a focus on it. It's a little bit of a work in progress because we still, for the most part, have 'D' playing above where they played last year.
"To be honest, most of them played against second-third-fourth lines last year. Now this year, everyone's bumped up. They're playing a little bit higher level of competition than they were used to the year before, and they're growing into those roles."
One of the keys to the improved defense has been senior captain Jack Ahcan, who was the NCHC defenseman of the week for his play against Miami last weekend. Ahcan, who is third among NCHC defensemen with 13 points, was plus-3 in the series. Larson feels that Ahcan is starting to settle into his role as the team captain and the leader on the ice.
"I think that with him being a captain and with this team being young, he put so much on his shoulders early; I think he felt that he had to do everything," Larson said. "I think what he's done really well lately is just trust in his own game. He's a warrior down low, and he defends hard and strong. He's created jump up in the play as well. He's really good on the power play. I think he's just really, really focused on what makes him good and playing that way and not feeling like he's got to do everything.
"At the same time, he's found a good leadership balance of holding guys accountable and pushing them. I really feel like as the team has gotten better lately, he's also grown into his leadership role."
Last season, St. Cloud had one of the best offenses in the country, including three players above an average of a point a game.
This season, St. Cloud isn't quite as deep offensively, but two players who have stepped up are junior Easton Brodzinski and sophomore Sam Hentges. Brodzinski has 13 points this year, while Hentges has blossomed and has 20 through 14 games, the same number of points he had in 37 games his rookie year.
Larson believes Hentges' performance is all the more impressive since he is now the focus of opposing teams' top lines.
"For me, a couple of the guys up front, Easton Brodzinski, Sam Hentges, I think those guys, whether it's five-on-five or on the power play, they've raised their game to the next level and they've been able to contribute for us," Larson said. "Sam, last year he was probably playing against third lines most of the time, and now this year we've thrust him into a top line role where he's playing against other teams' top line and top 'D' pair, and he's still been able to get off to a good start. So, that's huge for us, to have those returners taking steps."
St. Cloud has also been working to improve its penalty kill, which heading into the Thanksgiving weekend was a woeful 69.77 percent. Over the last four games, the team has clamped down on the penalty kill and is slowly but surely improving there.
"Other than a five-minute major goal we gave up in North Dakota, we've been pretty solid the last four to five games," said Larson. "Just like our team in a lot of ways, I just feel like we're maturing in that area. We're trying some new guys in that area that hadn't done it before. Gone are the days of having Jimmy Schuldt and Jon Lizotte kill every penalty for you. A lot of guys are growing into roles that they didn't have before.
"As you look at trends throughout the year, we were certainly disappointed with how the penalty kill started, but again, we definitely see some growth and development in the guys that are on the kill."
This weekend, St. Cloud closes its first half by hosting a much-improved Omaha team, one that has been ranked for much of the first half of the season. St. Cloud will look to improve on its dismal home record so far, as the Huskies are 1-4-1 at home.
"The one thing we have to realize is that Omaha's a really good hockey team," said Larson. "I just watched the tape of their series against Duluth. They fought Duluth to two games that were at one point tied or a one-goal game in the third period. To me, that's this league, right? Even though Omaha lost a couple of games, I think they look really good on tape. They're very structured, they're coached very well. They've got a combination of size and skill.
"For us, the first thing is to know that it's a big challenge with a good UNO team coming in and being able to step up and meet that challenge."
Denver, Colorado College renew Gold Pan rivalry
While four teams have finished their first half, the rivalry action will be fierce this weekend as Denver and Colorado College square off in the first game of the four-game Gold Pan series.
Last year, CC claimed the Gold Pan for the first time in the Mike Haviland era. CC secured the Gold Pan on the final weekend of the regular season and rode that momentum into the NCHC Frozen Faceoff, the first time the Tigers had qualified for the Frozen Faceoff in the history of the league.
This year will be the 27th year of the Gold Pan series. A team has to outright win it to take the trophy from the other team — a 2-2 season split sees the team possessing it retaining it. Denver and CC have played each other 320 times, second only to the Michigan-Michigan State rivalry in number of games played. Denver leads the series 180-120-20.
Colorado College has been the hotter team of late, going 4-2-1, including sweeping Princeton on the road last weekend. Denver, after starting 8-0, has only one win in its last eight games. The team's offensive struggles continued last weekend in Arizona, where Denver lost 4-1 and then needed a late goal from Cole Guttman to eke out a tie in the rubber match.
Just like any rivalry, however, records often mean little. Denver hosts Friday, while the Tigers host Saturday.